ocean finance
Do you want quick but rigorous answers to your financial questions?
Although administration, financial statements and filing taxes are an important part of our business, we always ready to advice you as fellow entrepreneurs. Whether you're starting, ready to expand or need to revitalize your company, we can help.
You can call, mail or make an appointment. We'll be there for you, providing your organization with smart solutions to complex problems.
Clarity about your financial situation declutters your mind and gives you the headspace to do what you really care about.
At Ocean Finance we…
provide the administrative and fiscal services your company needs
help you have a clear, realistic overview of your financial situation and create an 'ocean of tranquility'
help you with your personal taxes as well
so you will be able to better plan your future.
Ocean Finance offers all this and more to small and medium sized enterprises, foundations and non-profits. This means you can focus on what you care about; reaching your goal and being innovative.
Our team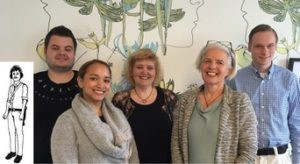 Founder Esther Schulte has been active in finance since 1986 and launched Ocean Finance in 2006. Her areas of expertise are making financial reports, giving strategic insight and advice, as well as explaining the complexity of the financial world in simple terms.
Karen van der Pluijm has been at Ocean Finance since 2008. She's an expert on the Dutch tax code and an official member of the professional association for tax advisors. She has a lot of experience in assisting small to medium sized enterprises.
Together with our interns and employees we love making sure your financial situation is tailored to help you reach your dreams.
CONTACT
Our office is located in walking distance from Rotterdam Blaak (train, bus and tram). When arriving by car, it is possible to find parking Oude Haven, around 5 minutes walking distance from our office.
Feel free to send us an email to make an appointment or contact us through one of the channels listed below!
Address
Gebouw Het Witte Huijs
Wijnhaven 3K
3011 WG Rotterdam
Phone: 010- 477 72 00
Our office is closed every wednesday.